The State of North Carolina has just been awarded the coveted 2022 Platinum Shovel award by Area Development magazine for having the most significant investment and job creation projects in America.
The annual award is part of Area Development's analysis report of economic development projects and trends around the country.
According to the report, "information from all 50 states about their top-10 job-creation and investment projects initiated in 2021. Based on a combination of weighted factors — including the number of new jobs to be created in relation to the state's population, the combined dollar amount of the company investments, the number of new facilities, and the diversity of industry represented — five states achieving the highest weighted overall scores were awarded Area Development's Gold Shovels in five population categories: 12+ million, 8+ to 12 million, 5+ to 8 million, 3+ to 5 million, and fewer than 3 million. The runners-up in each of the above population categories were awarded Silver Shovels. This year, two states were awarded our new Platinum Shovel awards in recognition of the fact that they went beyond the Gold standard for job creation and investment."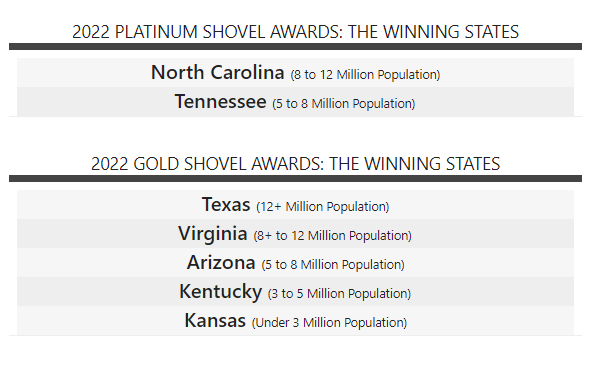 "By virtue of the fact that North Carolina's 10 submitted projects will be responsible for the creation of more than 9,000 jobs and $6 billion in company investment, the state went beyond the gold standard and is receiving our new Platinum Shovel award," noted Area Development's Editor Geraldine Gambale.
The Tar Heel State also had two projects recognized as Projects of the Year. Apple's research and development center in Wake County was recognized as Non-Manufacturing Project of the Year. The project will create 3,000 jobs and invest over $1 billion. Toyota's first North American electric vehicle battery manufacturing plant in Randolph County won Manufacturing Project of the Year. The project will create 1,750 jobs and invest $1.3 billion.
"North Carolina had a notable year in 2021; we announced over 20,000 jobs and over $10 billion in investment. This positive trajectory out of 2021 has led to substantial project wins in early 2022," commented EDPNC CEO Christopher Chung. "The EDPNC and our state and local partners have worked hard to make this happen, and we appreciate this national recognition."
Photo sourced from Project Gateway
Article sourced from charlottestories.com