There are many different names for duet properties — you may have heard them referred to as couplets, side-by-sides, twins, or geminis. As your Charlotte-area real estate agent can tell you, a duet is different from a duplex.

In a duet, each residence on the property is sold and purchased separately. There are many beautiful duet homes for sale in and around South End, Dilworth, Sedgefield, or the Myers Park neighborhoods of Charlotte, NC, and you may want to consider them in your home search.

When you consider the current real estate market in Charlotte, investing in a duet can often be a wise move, whether you plan on living there or renting it out. Charlotte is one of the most moved-to cities in the country, and has attracted 150,000 new residents over the last 10 years. This city is also ranked as one of the best real estate markets in the country.

Given this information, it's no secret that demand for homes for sale in Charlotte, NC is high and that home values are expected to continue to climb. Let's dive into what makes a duet a duet, and you can decide whether a property in fast-growing Charlotte is the right option for you.


What is a Duet?
Duets are considered attached single-family homes, with two residences built on the same piece of property. Each side of the building, or each residence, is sold as a separate home. Dwellings are often connected by one shared, fire-rated wall. Duets tend to be at least two stories and have the architectural look of townhouses, though they tend to be larger.

In most situations, owning a duet is very similar to owning a regular detached single-family home. When you purchase a duet, you own the structure itself as well as the land it's built on. Many duet homes for sale in Charlotte feature private backyards, and those who purchase duets own that land.
Advantages of duets as primary residences
A duet might not be the first type of real estate that comes to mind when you consider buying a home in South End, NoDa or any part of Charlotte. However, for city living, duets can be more desirable than condos — you own the land, and duets often feel more home-like than townhouses, as there is only one shared wall between residences.

Duets also tend to have smaller yards, so you'll be able to reduce your yard maintenance costs. Considering the national average cost for yard maintenance runs homeowners $150 each month, this is quite the perk. It's also nice to be able to customize or make upgrades to your own outdoor space without having to seek permission from an HOA.

While you'll enjoy the autonomy that comes with owning a duet, you'll also reap the benefits on the property tax side. Owning a duet usually means you own one side of the property, so you'll be paying lower property taxes on your duet than you would for a detached single-family home.

Duet homes for sale in Sedgefield, Dilworth or other neighborhoods in Charlotte, NC offer home buyers benefits that are worth considering.
Advantages of duets as rental properties
According to Niche.com, 47% of Charlotte residents are renters. This is excellent news for you if you own real estate and intend to rent it out. With rental properties in such high demand in Charlotte, especially near trendy areas like South End or Uptown, you'll have a large pool of potential tenants to choose from.

Tenants who may be looking for a duet home in particular include young working professionals and retirees. These people tend to want properties with smaller, low-maintenance yards located in nice neighborhoods with easy access to the city.

When you rent out a duet, you'll be entitled to certain tax benefits. These advantages will allow you to reduce your taxable rental income. Expenses such as interest incurred on your mortgage, operating expenses, depreciation, property taxes and repairs all become tax-deductible for your rental property. If your tenants incur any maintenance costs, you can write them off as well.

A lesser-known write-off for rental properties is advertising or marketing expenses for the amount you spend trying to attract tenants. If you rent out your duet property, you'll have a reliable revenue stream that reduces your taxes.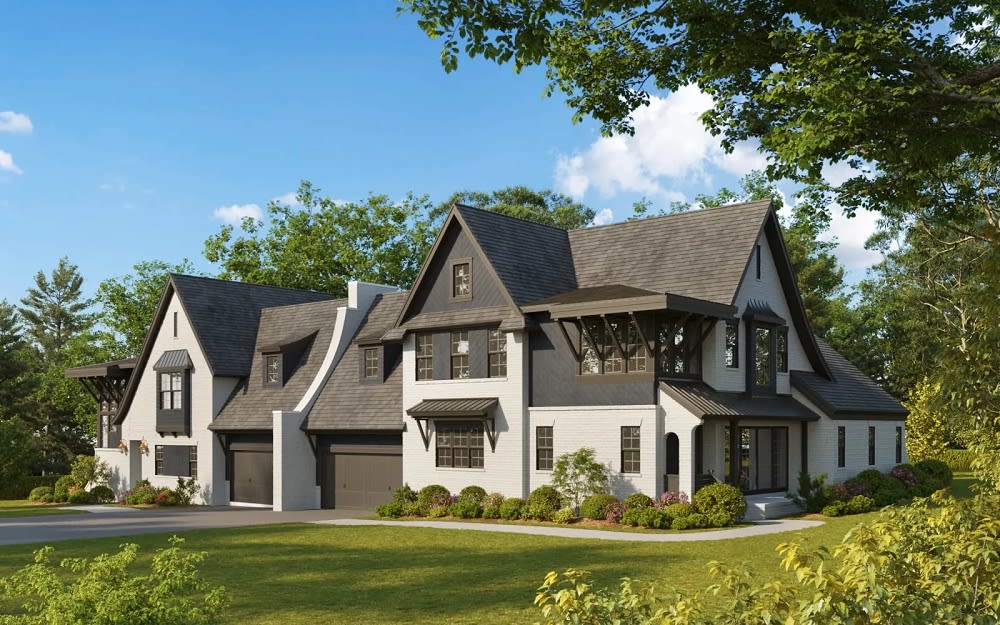 Pictured: Artistic rendering depicting The Cambridge Duets,a 2022 project with Legend Design Building Group
Duets in Sedgefield, Charlotte, NC
Sedgefield is a highly walkable residential and commercial neighborhood in Charlotte that offers some of the best restaurants in the city. Sedgefield is also home to great schools, convenient access to Uptown, and boasts gorgeous luxury homes – including many duets.

Duets in the area are becoming increasingly popular among young professionals and empty nesters, as well as families. Some duet homes for sale in Sedgefield, Charlotte, NC offer four stories of living space, and all offer that single-family home feel along with the convenience of a lower maintenance property. If you're looking to live in the heart of one of Charlotte's most lively neighborhoods, a duet in Sedgefield could be the right choice for you.

If you're interested in homes for sale in Charlotte, NC, don't rule out modern, luxurious duets. Area real estate agents like the professionals on the Charlotte Living Realty Group will be able to show you duets on the market that meet your needs, and often know of brand-new construction months before it hits the market. If you decide a duet is not right for you, your agent can present you with other types of homes for sale in Charlotte, NC.
Thousands of people move to Charlotte each year, and there is a perfect home waiting for everyone in this booming city. Working with the right real estate agent can help you sort through your options and choose the right home that meets your needs.

*Header Image: Artistic rendering depicting The Windsor Duets, a 2022 project with Alenky Signature Homes.