Heading into 2022
, Fannie Mae predicted that mortgage interest rates would rise from 3.1% to 3.3% by the end of the year—the Mortgage Bankers Association
predicted
rates could rise up to 4%.
Unfortunately, both Fannie Mae and the Mortgage Bankers Association were way off. In actuality, the average rate for a 30-year fixed-rate mortgage reached as high as
5.81%
in June 2022. That number dropped slightly to
5.55%
as of August 25 but then rose again to 6.08% as of
September 2, 2022
. Overall, it's clear that the market prediction in late 2021 was not realistic.
Compare the numbers to
August 2021
, when the rate was 2.86%, and you can see a major difference. Today, mortgage rates have shocked the system.

The actual impact of rising interest rates depends on a number of factors. For example, a quick interest rate spike could downshift housing demand, while a gradual increase throughout the year would have far less notable consequences.

If you're a potential buyer or seller of Charlotte real estate, you may be wondering how rising interest rates will affect your ability to buy or sell in the Charlotte real estate market. For your consideration, below is an exploration of rising mortgage interest rates and how they will affect key players in the Charlotte real estate market.
Charlotte buyers can expect to pay more
Increasing mortgage rates lower mortgage eligibility, forcing Charlotte home buyers to pay more—in this case, a lot more. With the increased mortgage interest rates, the principal and home interest cost significantly more.
Data confirms that mortgage payments across the
100 largest
regional real estate markets in the U.S. rose 52% from January to June 2022. The average mortgage payment in San Jose—the nation's most expensive housing market—jumped from
$5,304 to $8,185
. Such a dramatic increase in such a short time frame is the reason more buyers are backing off and being priced out of the market.
One-in-three chance of a recession
Nothing has cooled markets faster over the past few years than the swift increase in mortgage rates alongside record home price appreciation. Today, more buyers are on the sidelines, opting out of the volatile market.
What began as a housing slowdown is now approaching a full-blown housing
correction
. Forecasts project the 20% year-over-year home price growth rate will
drop to 0%
over the next year, including a 5-10% drop in the more overvalued housing markets.
The possibility of a recession over the next year hovers around a
one-in-three chance
right now, which could drop home prices by around 5%. A situation like this is rare; looking back at the history of the real estate market, happening just twice in the U.S.—during the Great Depression and the 2008 housing market bust. Should the country fall into a recession, experts anticipate dramatically overvalued housing markets could drop home prices by
15-20%
.
Fannie Mae and the Mortgage Bankers Association clearly missed the mark.
It began with an early consensus that inflation would drop in 2022. On the contrary, as of May 2022, the consumer price index increased
8.6%
since May 2021, driving the Federal Reserve to counteract the spike with tremendous upward pressure on mortgage rates—an incredibly hard hit to Charlotte home buyers.
Despite these volatile conditions, many potential homebuyers across the Charlotte area still want to buy a home. That means the real estate market is incredibly competitive despite leveling off the last two years of red-hot activity. Despite the increase, mortgage rates are still well below the historical highs reached in the past 40 years, including the
record-high 18.63%
average rate in October 1981.
Mortgage rates over the next 12 months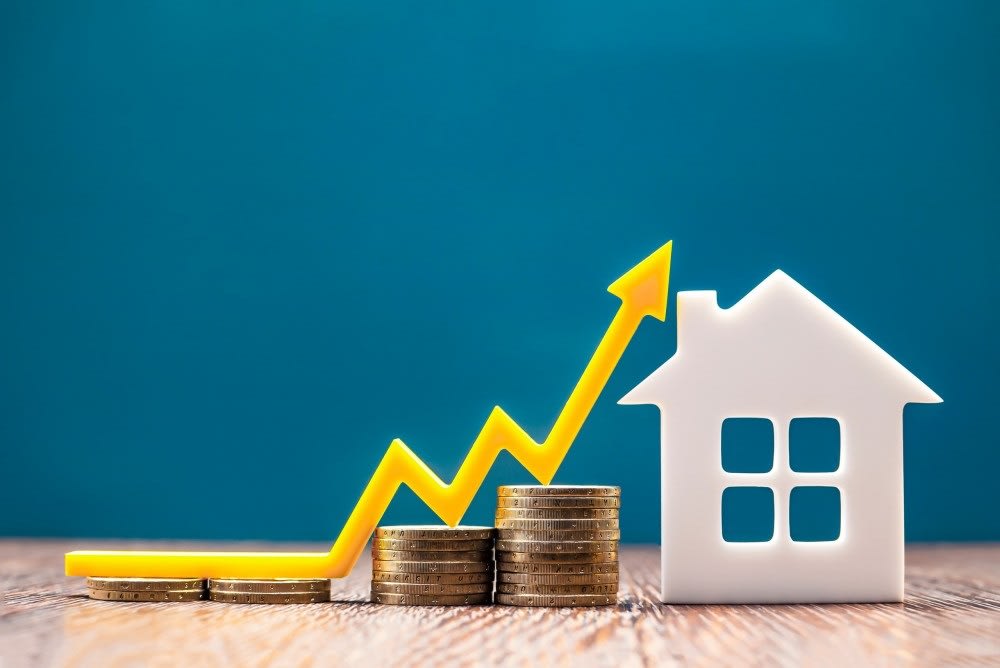 Photo courtesy of Shutterstock

There's no denying that the current mortgage interest rate and borrowing cost increases have made consumers and institution investors more cautious. As the Federal Reserve continues its plan to soften housing activity, one can only expect mortgage rates to increase even more through the rest of 2022.
Rates tend to
track 10-year US Treasury bonds
, but the federal response to inflation also indirectly impacts the mortgage rates. This is because investors often sell government bonds in response to mortgage rate increases, sending both yields and mortgage rates higher.
The Federal Reserve just raised its benchmark interest rate by
75 basis
points in July 2022. This is the largest increase in three decades, in an effort to help dampen the red-hot housing demand sweeping the nation. This demand has been ignited over the last two years by record-low mortgage rates, pandemic-related migration patterns, the influence of investment firms buying residential properties, and the Federal Reserve's purchasing of mortgage bonds.
A healthier market around the bend
The good news about rising mortgage rates is that Charlotte's home prices should cease to jump upwards. The start of the pandemic marked one of the hottest national real estate markets, with soaring demand—which should moderate as rates increase and put a ceiling on home prices.
On the flip side, increasing mortgage rates in a high-inflation environment coupled with record home costs could
price out
millions more from the market. Housing is already transitioning to a post-pandemic new normal as rents hit a record high for the
15th consecutive month
. However, the pace of growth is slowing as home price gains continue their decline.
According to a
report
by the National Association of Realtors, the median home price was $379,900 in the Charlotte-Concord-Gastonia area during the first quarter of 2022. This is an increase over 2021, but the price growth is slowing down.

Market prices will continue adjusting to a smaller pool of qualified buyers and higher financing costs as the overheated market transitions to a more sustainable one—but it will take some time. A healthier environment should eventually round the bend, with more housing options and better value for buyers.

For frustrated buyers dealing with the lack of Charlotte homes for sale and overwhelming competition, relief could be on the way. Although mortgage rates and home prices may not drop, both might stabilize, bringing relief to buyers struggling to stay ahead of price increases and rising rates.
Work with an experienced Charlotte real estate agent
When navigating a tumultuous market, working with an experienced and reliable real estate team is vital. Since 2001, the
Charlotte Living Realty Group
has helped buyers and sellers reach their goals with their top-notch market knowledge and commitment to excellence at every turn.
Reach out to the team
today to get started on your real estate journey!