The new section will begin at Johnston Road, where the Four Mile Creek Greenway and McAlpine Creek Greenway come together, and extend upstream up Highway 51.
Currently, the project is in its design phase. Construction will begin in about a year and is set to be completed by 2024.
Why it matters: "Greenways continue to be our No. 1 requested amenity within our system anytime we do a large scale survey," said Bert Lynn, capital planning division director for Mecklenburg County Park and Recreation.
The community uses these systems for recreation, of course — on any given day, you'll find hundreds of cyclists, runners and dog- and stroller-walkers on the city's greenways. But when these systems grow long enough, people often bike long distances to get to work and other destinations, Lynn noted.
"What we've found is once a system gets more than four miles of connectivity, the use begins to expand beyond recreation," he said.
Currently, the McAlpine/McMullen/Four Mile system is the busiest in the region, Lynn said. It's roughly 6.5 miles now and will be about 7.5 miles when the work is complete.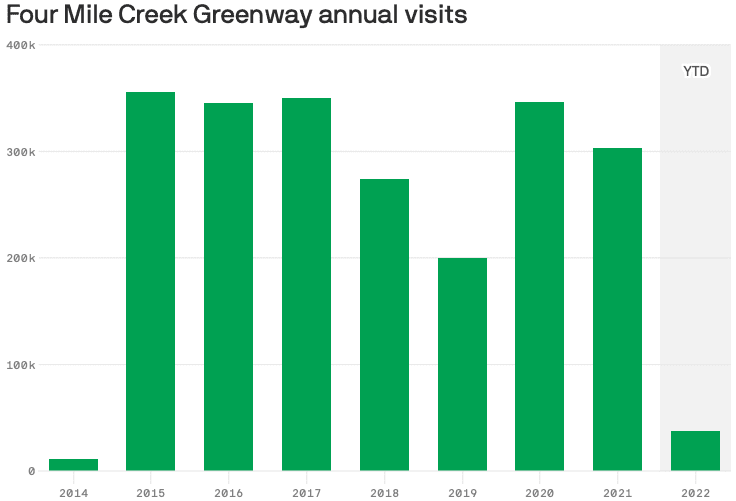 Data: Mecklenburg County; Chart: Axios Visuals
Zoom out: Using bikes, scooters, our own feet or any other non-automobile method to get from A to B is particularly important locally as Charlotte tries to become less car-reliant.
Did you know: The city is responsible for planning and building the Cross Charlotte Trail, which'll eventually be a 40-mile system stretching from the South Carolina state border up to the Cabarrus County line.
The county maintains and operates greenway projects. The Cross Charlotte Trail intersects with chunks of greenway, though, so the county will maintain portions of it once they're completed.
Details: The new greenway will have more boardwalk than is typical because it goes through wetlands, Lynn said. It'll have at least one major bridge over the creek, too.
The project's total budget is $7.8 million. Much of the funding ($5.77 million) is provided through a federal transportation grant through NCDOT, according to the county.
"It'll be very similar to our other projects. It'll be within the floodplain, parallel to the creek, linking in to and extending connectivity to an existing system. Then it'll provide additional access points to single-family (neighborhoods), multifamily (developments) and some office along this stretch of the project who don't currently have access to the greenway," Lynn said.