The main terminal still in use today at Charlotte Douglas International Airport opened in 1982. At the time, annual local passenger traffic was 2.5 million people. By 2018, just before an ongoing, $600 million makeover and expansion of the terminal began, the number of local fliers had increased to 12.5 million.
And, even after recent pandemic-caused declines in airline ticket sales, the airport terminal remains woefully undersized.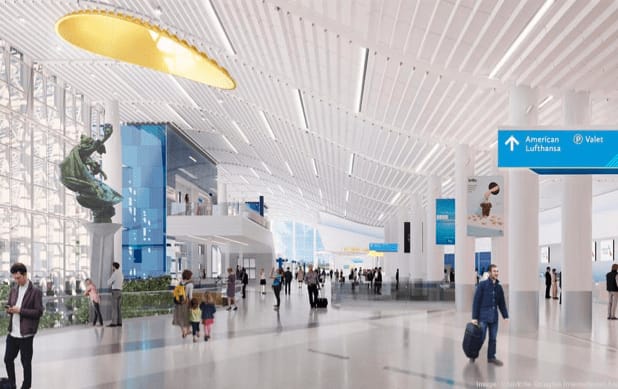 This week, airport officials took a contingent of reporters and photographers — including the CBJ — on a behind-the-scenes tour of the terminal overhaul. It is the centerpiece of Destination CLT, a 10-year airport renovation and expansion blueprint scheduled to wrap in 2025 at a cost of $3 billion to $3.5 billion. The projects encompass adding 175,000 square feet and upgrading 191,000 square feet of existing space.
Renovations of all the concourses, upgraded security and baggage systems, more room for passengers throughout, and relocated ticketing and check-in areas are among the changes included in the makeover.
Standing on the mezzanine level of the expanded terminal entry, Jack Christine, the airport's chief operating officer, raised his voice to compete with the clanging, thumping and whirring of heavy machinery and equipment behind him.
Looking around, Christine said, "I can see that this looks a lot like the renderings, which makes me very happy because that means it's going the way it's supposed to."
One thing that couldn't be seen: the statute of Queen Charlotte that has bounced around the CLT grounds in recent years because of various construction projects. Currently, it's back in the main terminal. Christine pointed to a newly built, temporary plywood box protecting the statue until construction is finished.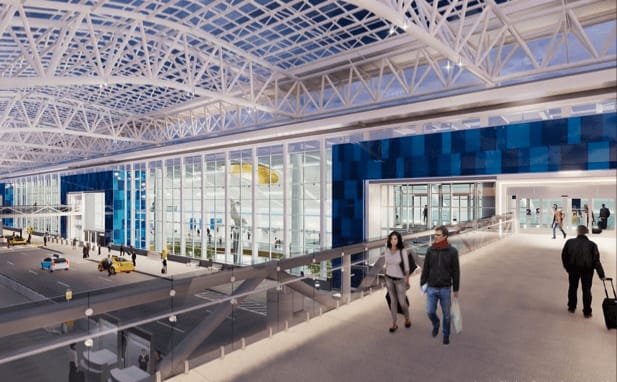 Holder-Edison Foard-Leeper, a joint venture between Atlanta-based Holder Construction and Charlotte firms Edison Foard and R.J. Leeper Construction, is the contractor. Between 250 and 300 workers are on site daily, Christine said.
The terminal and main lobby will extend out 90 feet farther when this phase is finished. All the new space will be ready and in use by late spring next year. Airport officials showed off the upper level of the terminal expansion, which is 75% finished.
Christine said the portion opened to the media for the tour represents two-thirds of the expansion, with construction on the remaining portion starting this week. The airport has carved out new corridors and designated entrances to accommodate construction.
A combination of revenue from passenger ticket fees and bonds backed by airline fees will pay for the design, materials and construction work. No city, county or state tax revenue will be used to pay for any of the projects.
CLT's annual economic impact is $24.6 billion, according to a study commissioned by the state transportation department. Business executives and recruiters frequently cite the airport and its American Airlines hub among the region's most important assets.
Christine told reporters that the latest renovations are years late based on airport passenger counts. Much of the delay stemmed from the layout of the airport. There was no room to expand to the south because doing so would encroach on the airfield. And, to the north, where the expansion is now occurring, terminal roadways had to be torn out and more parking was needed.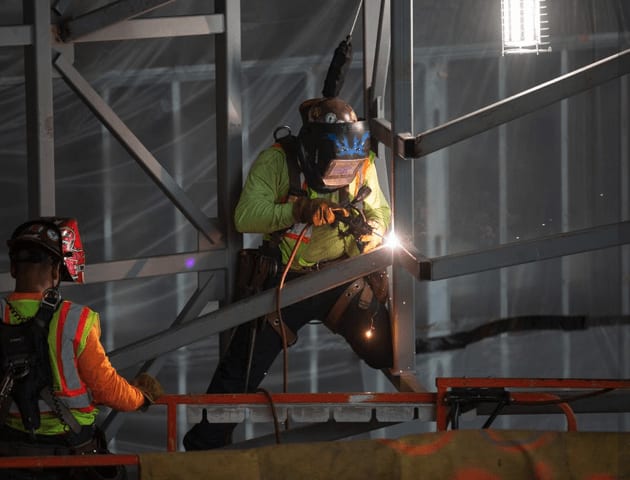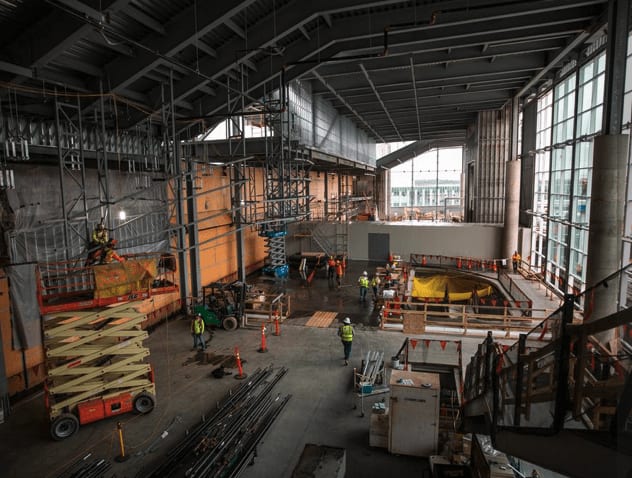 A 7,000-space parking deck and rental car hub opened across the street in 2015, followed by new roads. Those changes set the table for the current work. After the extended terminal areas open next year, the makeover of the old terminal spaces — flooring, lighting and other features — will begin.
Christine said the airport paused its next extension of Concourse A, which will feature 10 new gates, by a year while waiting to see whether the pandemic would pinch demand too much for expansion. Leisure travel has rebounded strongly in recent months, though infection spikes have curbed that trend of late. Business travel remains largely on hold.
Among the projects under construction is a $50.5 million expansion of Concourse E. Scheduled to open next spring, it includes 34,000 square feet of new space made up of waiting and concessions areas and storage. American Airlines will fill three more gates on Concourse E once work is completed.
Of the five concourses, only D has yet to start or complete renovations. The Concourse E upgrades should be ready next spring. It will take another two years to add jet bridges, the tunnel walkways that passengers take from the terminal to board planes, on the same concourse.
Charlotte's airport has rebounded faster from the effects of the pandemic than many of its peers, boosted by its status as an American hub. The airline's largest hub, Dallas-Fort Worth, and CLT have become focal points because of geography and affordability.
This year Charlotte Douglas went from the fringes of the 10 busiest airports to sixth busiest in the U.S. because of drop-offs at larger airports and comparatively strong traffic.
Despite those advantages, full recovery remains a long way off. The main culprit is business travel, which continues to lag as companies remain cautious about sending people on the road as the Delta variant of Covid-19 continues to wreak havoc and many offices remain fully or partially closed.
Business travel revenue at local hotels is projected to decline this year by 73% compared to 2019, according to a recent industry study.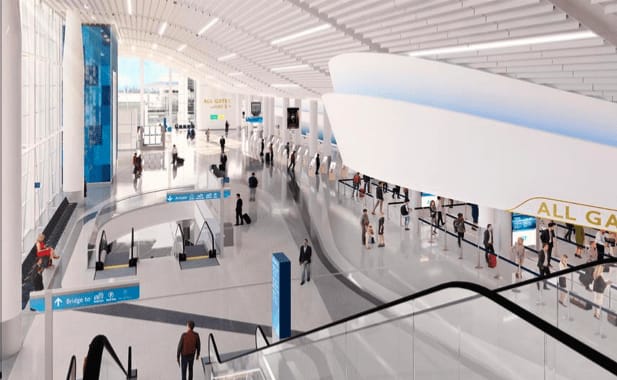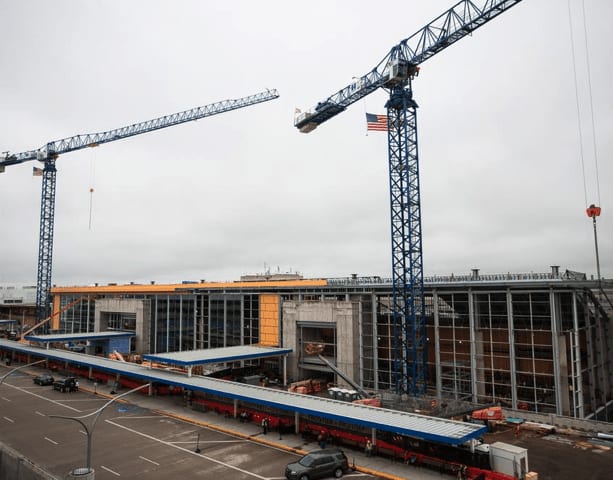 In July, Charlotte Douglas eclipsed pre-pandemic travel levels. Covid and labor shortages, among other factors, have since caused declines, prompting airlines to reduce flights.
Those problems followed the industrywide pandemic blows of 2020. CLT followed a record-setting 2019 — 50 million passengers — with a decline of 46%, to 27.2 million travelers, last year. Airport revenue has fallen by roughly one-third the past two years.
Christine noted that when the latest round of expansion started, projections called for handling up to 16.5 million local passengers by 2035. That will likely be delayed because of the pandemic. Christine predicted CLT will return to 2018 levels — 12.5 million local passengers — in 2024.
In addition to the airport-funded projects mentioned above, a $112 million air traffic control tower being built by the Federal Aviation Administration will open in 2022, Christine said. It was supposed to open last year. The FAA halted work on many projects in 2020 because of the pandemic.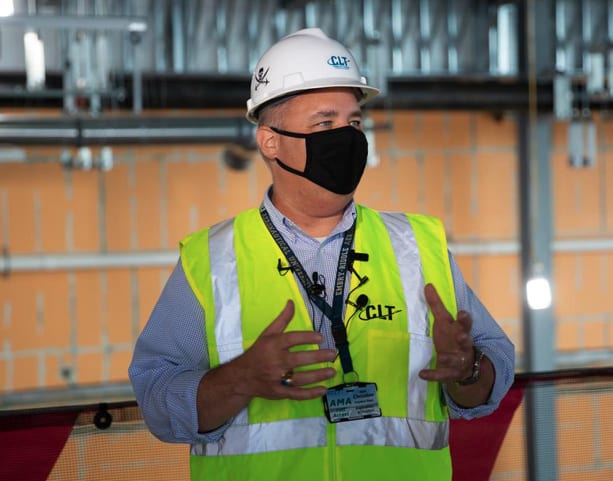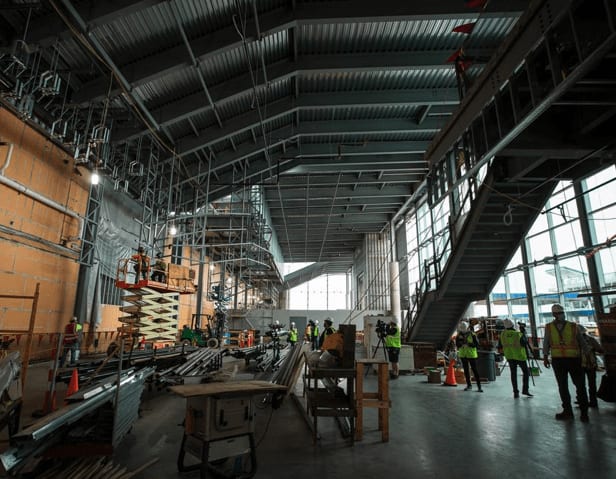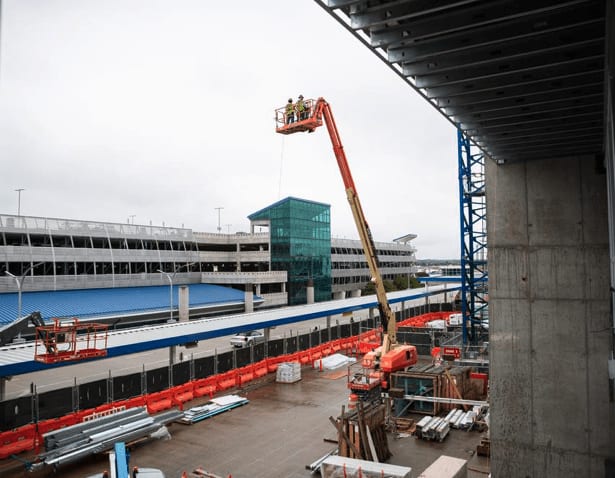 Originally published by the Charlotte Business Journal