"Flipping" houses—or buying with a strategy to renovate, resell, and profit—is increasingly popular in American residential real estate. It's a tempting business model that requires a deceptive amount of skill, especially in regard to design. You have to make sure that your home stands out against its competition, sells quickly, and earns back more than you've spent.

Like any practice in life or work, flipping homes requires time and repetition to be done effectively. Below are an expert's design observations when buying, renovating, and flipping houses.



Know the neighborhood
It's important to remember that flipping a house isn't an invitation to build your personal dream home. You want the house to stand out from the competition for its quality, elegance, and on-trend designs—not become something unique in its own neighborhood. Understand the popular designs in the neighborhood where you're planning to resell, as well as the trends in national residential real estate. Cater to the trends in the neighborhood, and add quality rather than stylistic flair. Once you have a researched understanding of what buyers in a neighborhood are expecting, you'll be able to give them what they want—while staying on budget. Include the home's interior, exterior, and landscaping in your budget projections.
Know your budget
Budgeting is the most crucial part of flipping houses. Your budget has to be built around the designs and renovations that matter most to customers, and that promise the highest ROI.

When you stick to your budget, you'll be able to earn your intended profit. You don't want to spend thousands of dollars re-doing a home's backyard or living room, only to realize that—statistically speaking—buyers care way more about the kitchen. As mentioned above, identify and accentuate what makes a home stand out, without inserting too much of your own taste (or money!)
Play up the home
Every house requires something different in terms of renovation. Some homes need a complete gut job, while others need only a few simple design updates. In either case, it's a good idea to play with the home's existing features and style. If the home is intended to be modern, then experiment with dark kitchen cabinetry, funky furniture, and eco-friendly designs. If you're working with an older, traditional home, crown moldings and statement chandeliers will more easily fit the bill. Play up what already exists in order to stay true to the home and prevent the trap of unnecessary renovations and expenditure.


Go neutral
It's important not to overwhelm potential buyers with too many colors or styles. Neutrals are in, and they can help highlight the home's best features. Natural colors (tan, beige, white, and off-white) leave room elsewhere for experimentation with design and color. Add accents by putting a bright pillow on the couch, or a fun piece of artwork on the walls. These additions won't cost much or distract buyers from the home you're trying to sell.


Be original
"Neutral" doesn't mean "bland." Potential buyers don't want to invest in something that will look exactly like every other home on the block, but they also want to fit into their new neighborhood. Pay attention to the details of your home, both inside and out. Spice things up with some unique architectural details—like original molding, or interesting cabinetry. While filling your home with name-brand pieces might seem easy and appealing, you'll limit the home's appeal to buyers. Furthermore, many buyers are also searching for an unfurnished home. They want to see originality and thoughtfulness that can easily give way to their own creative vision. Keep things simple, and thrift or upcycle building materials whenever they add real value to the home. Acquiring a few characteristic pieces for your home (a vintage farm sink, for example) may take longer than going to the big-box retailer—but can save you money in the short term, and pay off when you flip the house.
Upgrade the floors
Investing in new flooring is a worthwhile choice. Potential buyers don't want to walk into a home and see damaged linoleum, old carpeting, or cracked tile. Buyers want clean, streamlined floors. The potential ROI on new flooring can range from 70-80%. If the home you're flipping is in an upscale neighborhood, then high-quality wood, marble, or ceramic is the way to go. There are also several more affordable options, like vinyl plank, tile, and bamboo. Try to keep the flooring as consistent as possible throughout the home, so you don't divide the space and make it look smaller.
Focus on the bathrooms and kitchen
Homebuyers pay the most attention to bathrooms and kitchens. These rooms take on a lot of wear and tear, so potential buyers want to see that they're clean, modern, and well-maintained. These are areas where you need to invest your time renovating.

When it comes to bathroom trends, try to make the rooms feel as spa-like as possible. Soaking tubs are in, as is ample storage. For kitchens, you should look for stainless steel and energy-efficient appliances. Consider a smart refrigerator or a motion-sensor sink. Small upgrades such as these are incredibly appealing to buyers. Dark kitchen cabinetry is in, and pairs nicely with brass and gold fixtures. So long as you're staying relatively neutral, these trends can help your kitchen stand out.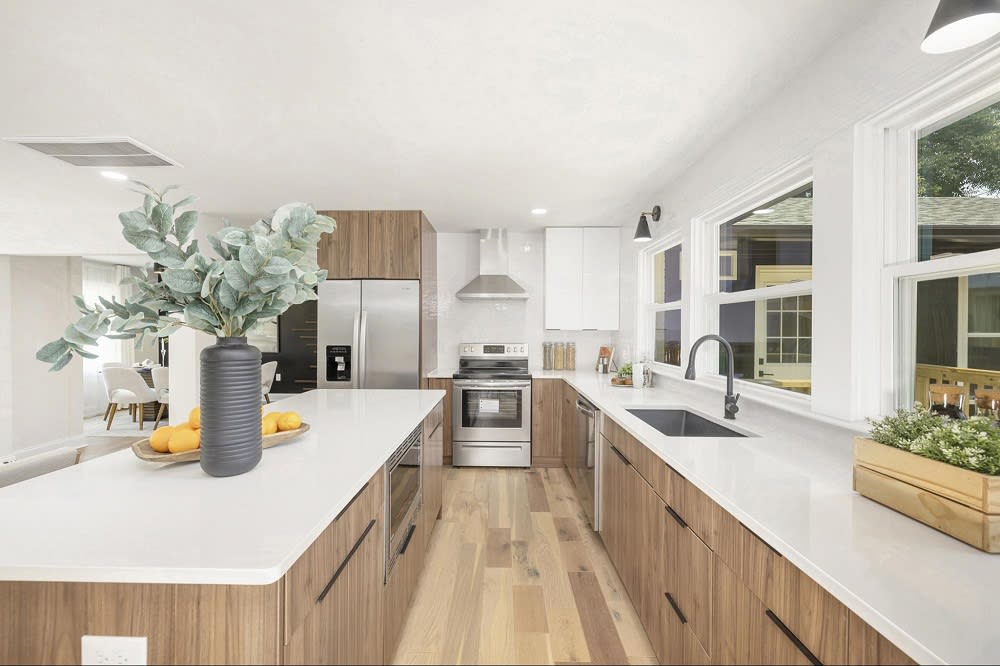 Build multipurpose spaces
More than ever before, homebuyers are looking for dedicated work and recreation spaces in their home. This includes gyms, offices, outdoor dining, and entertainment spaces. Consider all these possibilities when designing or redesigning a house that you intend to flip.

If a home has multi-purpose rooms, stage them specifically as gyms or home offices. If you're designing in an upscale neighborhood, you should consider building an outdoor kitchen. They're both trendy and functional. Be sure to include luxurious touches, like a cozy table and chairs, soft lighting, an outdoor bar, and maybe even a pizza oven.
Hire an expert
Unless you're an experienced designer, it's worthwhile to hire an expert. Interior designers are great at sticking to a budget and know what modern buyers want. They're experienced in catering to trends and will know more tips for finishing out a space quickly than the average flipper. It's helpful to have someone to brainstorm with and keep your project on track, so find a designer you trust.

If you're interested in flipping homes or finding a home that's been recently renovated, contact Charlotte Living Realty Group for trustworthy, expert advice on where to start.