Charlotte's construction boom took a slight hit during the first year of COVID-19. But it came roaring back last year, according to county building permit data.
What's happening: Mecklenburg County issued building permits for projects worth a total of $7.2 billion in 2021. That's just over 113,000 permits, which is higher than prepandemic construction levels.
From 2019 to 2020, the county saw a modest impact from COVID-19, as the number of permits issued dipped by around 2.7%.
The permits cover everything from home renovations to office towers.
Why it matters: The flurry of building that defines Charlotte has only continued to surge, despite a global pandemic.
Still, it's been an uneven recovery. Uptown, for example, is still struggling as office workers have yet to return en masse.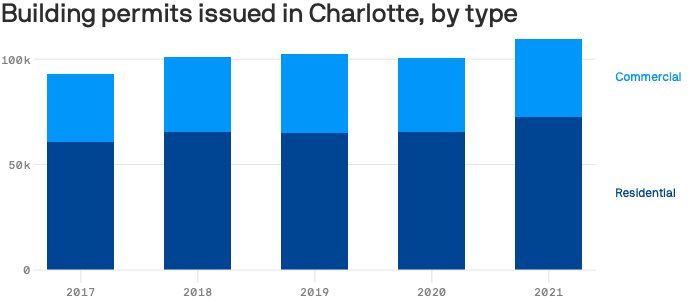 Data: Mecklenburg County; Note: Residential and commercial permits account for most permits issued in a year. Other permits issued include mobile home permits, sign permits, zoning permits, change-of-use permits and fire permits; Chart: Thomas Oide/Axios
By the numbers: The number of residential permits issued increased slightly between 2019 and 2020, rising from 65,067 to 65,703. Then in 2021, they jumped to 72,684.
Commercial permits fell by 7.4% from 2019 to 2020. But they climbed back up to nearly pre-pandemic levels last year.
Of note: Commercial projects include apartments, while residential permits are largely for single-family homes and sometimes duplexes and townhomes. And there are often multiple permits issued over a number of years associated with one project.
What they're saying: The county hardly saw an impact on building overall during COVID-19, Ebenezer Gujjarlapudi, the director of the Land Use and Environmental Services Agency for Mecklenburg County, tells me.
But it varied depending on the type of construction. While commercial activity slowed, home renovations became more popular as residents were stuck in their houses.
Now, he says, businesses are now trying to catch up on projects they were planning after being shut down.
The bottom line: Every year, billions of dollars in construction projects continue on in Mecklenburg County. Part of that is driven by the additional building activity, but it's also because the cost of construction is rising.
"The cost of raw materials and the inflationary pressures have added to the overall construction cost," Gujjarlapudi said.